Science of Intelligence Fair 2023
The very first conference and exhibition of the Cluster of Excellence Science of Intelligence (SCIoI) in Berlin.
This conference is a unique opportunity for attendees to learn from leading experts, exchange ideas, and engage in live demonstrations through several exhibits straight from the labs! With its varied program, the conference reflects the interdisciplinary orientation of the work in the Cluster and covers a broad spectrum of contributions from different disciplines.
The event is aimed at people from the fields of science and politics who are interested in understanding the challenges of developing intelligent technologies.
Discover the underlying principles of intelligence, whether artificial or biological, and their application in creating intelligent technology in engaging keynotes and a panel discussion with renowned speakers, as well as in our exhibition.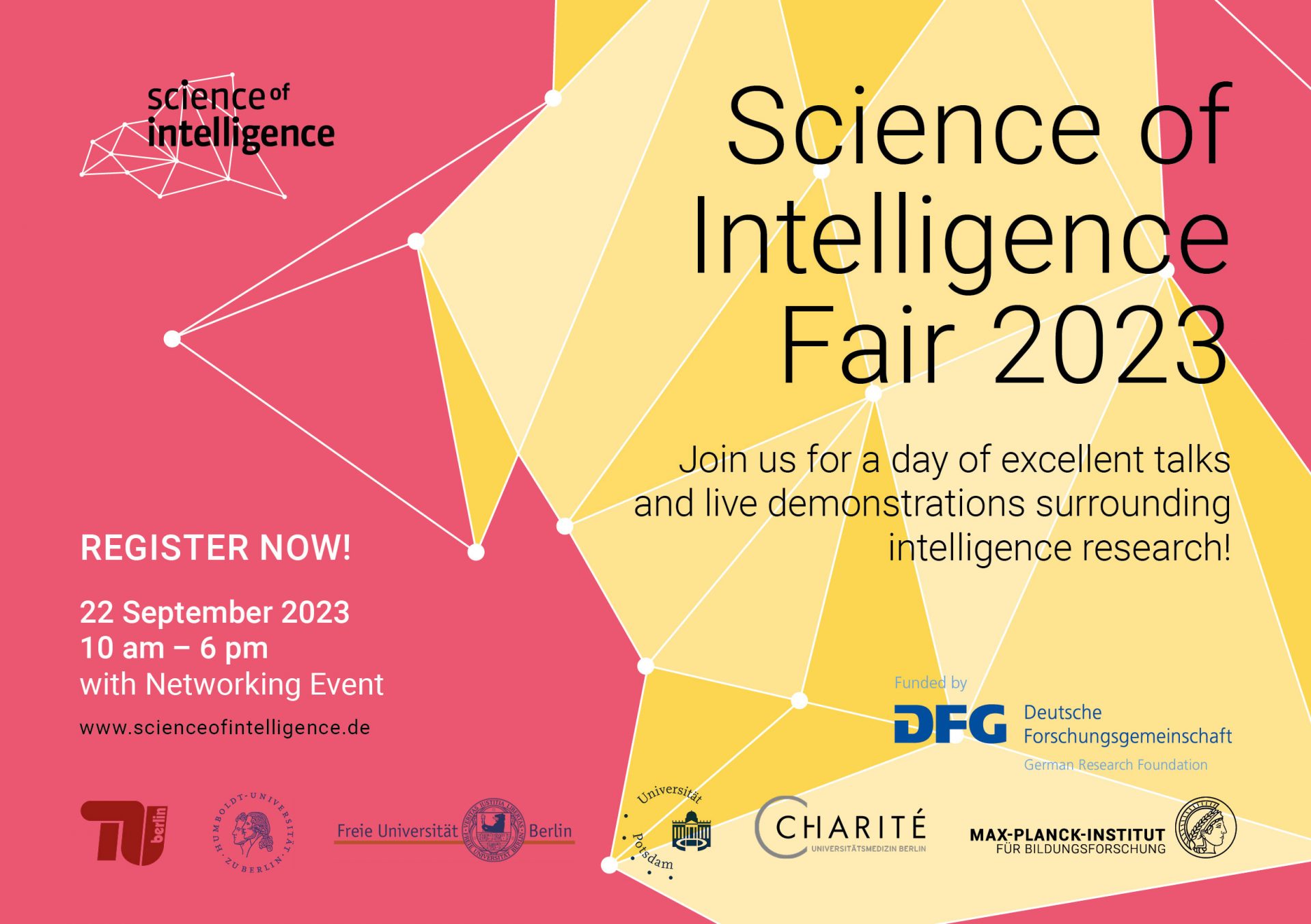 During the event, scientists from Science of Intelligence will present their research in an exciting exhibition.
Meet the Swarm Robots
Taken on their own, the "kilobots" are simple creatures. They can only communicate over a distance of ten centimeters and process a small amount of data. They only develop their intelligence in a collective. Together, they solve relatively complex problems in "decentralized networks" without a central control unit – similar to a school of fish escaping a shark . SCIoI scientists analyze swarm behavior in nature  and transfer the principles to algorithms that control mini robots. In experiments they observe how swarms of robots come to decisions – and how intelligence emerges in the collective. In future, this knowledge could contribute, for example, to optimizing autonomous driving.
Interact with a Fish Swarm
Drawing inspiration from research on social predators and their interactions with prey groups in schools of fish, this demonstrator aims to visualize the secrets of movement rules and decision-making in these fascinating creatures. As you walk through the projected fish swarm, witness how the collective responds to your movements. Just like a school of fish escaping a predator, the swarm adapts and navigates, displaying intelligence in their synchronized actions. The knowledge gained from this project is used to develop bio-inspired algorithms, enabling simulations and embodied robotics to better understand the principles governing biological systems and collective intelligence.
Kinematic Puzzle: Escape Room

Inspired by the intelligent problem-solving behavior observed in birds like cockatoos, this demonstrator brings together behavioral biology and robotic technology. Our mission is to understand the underlying principles that empower birds to master these complex tasks and translate that knowledge into our autonomous robotic system. This exhibit showcases the potential of robotics, where sensorimotor capabilities, computational principles, and internal representations converge to solve enigmatic challenges.
Robo Fish
Inspired by the rules that shape fish and bird swarms, the project that underlies this demonstrator explores the complexities of social interactions. Robotic fish take the stage as social partners, replacing living fish in this setup. With adaptive real-time behavior, these "socially competent" robots lead and interact with their counterparts, showcasing their problem-solving skills. Our Reinforcement Learning environment trains robots to engage with our artificial fish models, unveiling strategies to tackle tasks effectively. The Robo fish holds immense research potential, fostering collaborations with biologists and roboticists. Join us to explore collective behavior and its connection to robotics and artificial intelligence.
Event Cameras

This exhibit demonstrates, how our scientists use an innovative approach to extract meaningful motion information from complex animal behavior by combining traditional video and event-based camera systems. During this showcase, our scientists present the potential of event-based cameras, mimicking the human visual system's transient pathway. Discover how this technology opens up new possibilities to study natural intelligence and unravel the wonders of animal behavior.
Socially Responsive Robots
Learn about how scientists from SCIoI explore the vital role of social responsiveness in knowledge transfer between humans and robots. Drawing inspiration from educational psychology, social responsiveness is recognized as a crucial aspect of successful knowledge transfer in human-human interactions. It involves accurately reading signals and appropriately reacting to them, enhancing communication and learning outcomes. Combining insights from computer vision and educational psychology, we identify key principles of socially responsive behaviors in humans. These principles serve as a foundation to design and develop socially responsive artificial systems. Find out more about the fascinating realm of human-robot interaction.
Human-like Face Perception
In humans, perceiving and categorizing faces plays a fundamental role in understanding others, influenced by a unique interplay of facial features and top-down influences from cognitive domains like expectations, memories, and contextual knowledge. However, synthetic systems often lack this human-like integration, relying solely on visual input. The project behind this demonstrator aims to bridge this gap, mirroring human face perception. Empirical observations, computational modeling, and advanced image analysis, provide information about how prior knowledge influences facial expression interpretation. These insights will empower humanoid robots to adapt to social perceptions and engage in natural face-to-face communication with humans.
The SCIoI Fair 2023 will take place at Radialsystem in Friedrichshain.
Address:
Radialsystem
Holzmarktstr. 33
10243 Berlin
If you are interested in joining us for the event but did not receive an invitation yet, please contact us here.