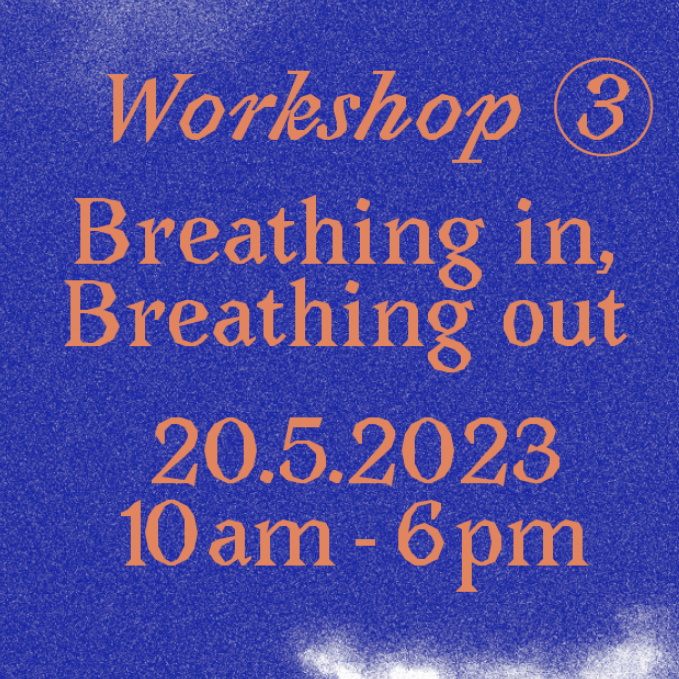 "Future of Air – Speculative Workshop Series" – Breathing in, Breathing out (in English)
Workshop title: Breathing in, Breathing out
Theme: Practices of Air
Where: YOGA at Lobe Block
We are breathing beings. Every breath reconnects us to ourselves, to our fellow beings, and to our environment. The act of breathing usually does not require any thought. Yet, our emotions and memories have a strong impact on our respiratory system – and vice versa.
How can we tune into the vital experience that makes air flow through our bodies? What do the molecules travelling through my lungs carry with them? Nourishment, pollutants, memories?
Where do we – individually and collectively – intersect through this bodily practice with the planetary carbon cycle? What if the access to clean air would become a mandate for societies in the foreseeable future? In this workshop, somatic exercises are intertwined with questions of planetary breathability.
With an input by Yoonha Kim (HU Berlin/Matters of Activity, Anthropology)
From 16 years, free of charge.
Registration open until 11.05.2023
About the workshop series:
Air is invisible. Air surrounds us and connects us – as people and as living beings. Air is material. What happens when we become aware of air? What
does air tell us? How can we deal with it – now and in the future, individually and as societies? In the workshop series "Futures of Air" we invite you to speculate about the futures of air – together with researchers from the Clusters of Excellence "Matters of Activity" and "Science of Intelligence". In three independent co-design workshops, we explore the properties of air as a material, negotiate its role in our lives, and imagine possible (and impossible) futures with it. We are looking for people ages 16 and up who are interested in speculating with us – people interested in materials, experimenters and the curious.
Further information and registration at: www.collactive-materials.de
***Want to attend one of our events? Sign up here.
To get regular updates, subscribe to our mailing list from this page.