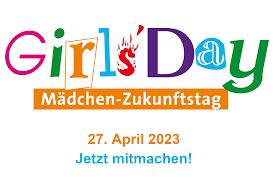 NEWS: Get ready for Girls' Day 2023 @SCIoI
Girl's Day is just around the corner, don't miss out on the opportunity to hang with some great female scientists!
Girls' Day is a unique chance for school girls all over Germany to visit scientific institutions, and get inspiration for their future careers. This year, the Excellence Cluster Science of Intelligence is hosting again this special event. At SCIoI, they will get to learn all about intelligence and how researchers work from different fields approach. After the talks, they will get to visit the labs and see how intelligent robots work!
The event is open to girls between the ages of 12 and 16, so spread the word and invite to come hang with us on April 27th. We will get to hear from our amazing members Maria Ott, Julten Abdelhalim, Vito Mengers & the RBO Team, Magdalena Yordanova, Nina Poth, Asieh Daneshi, and Lea Musiolek.
Get ready for a day full of inspiration and empowerment. See you there!
More info here.