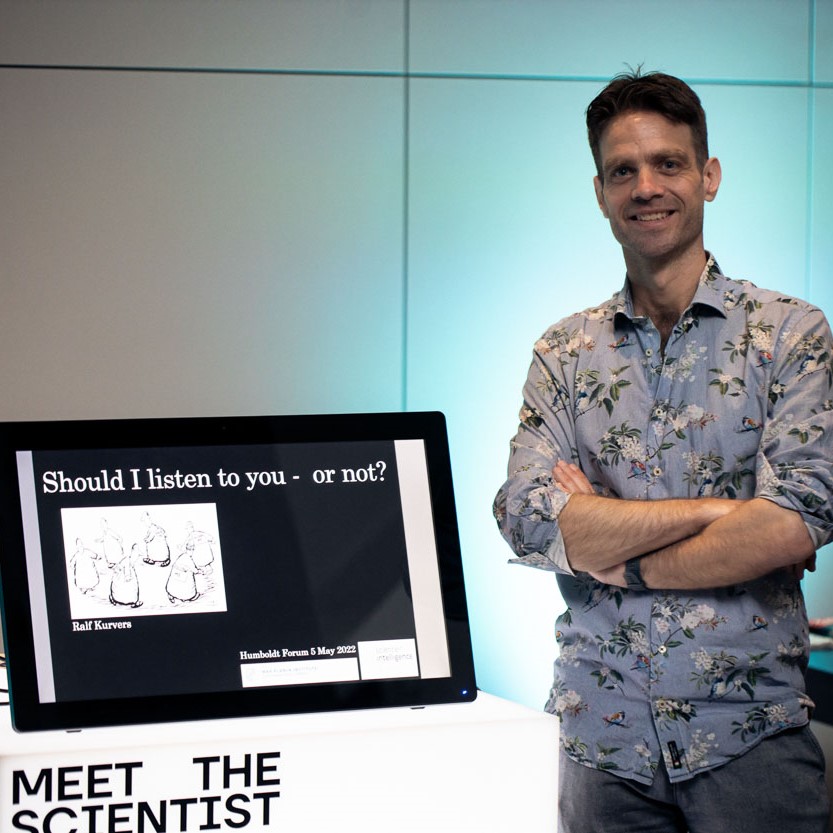 Ralf Kurvers at "Meet the Scientist", Humboldt Forum
"Should I listen to you – or not?"
Should I listen to you? Or should I ignore you when making up my mind? And what factors shape my decision-making? Questions like these are the field of behavioral researchers from the Cluster of Excellence "Science of Intelligence". Here, psychologists, computer scientists, biologists, neuroscientists, educational scientists, philosophers, and physicists work together to find out more about collective intelligence and human rationality.
One of these researchers is Ralf Kurvers. He has developed an interactive survey for the exhibition "After Nature" that aims at finding out more about decision-making processes in social environments – particularly, the value of "social information". Questions he is trying to answer are, for instance: Do younger individuals use more social information than older generations? Are there differences across cultures in their use of social information? And is it, in general, good or bad to use social information?
In the series "Meet the Scientist", Ralf Kurvers presents data collected in the Humboldt Lab over the last six months. He will give insights into his findings and the fascinating field of collective psychology.
Register here! https://www.museumsportal-berlin.de/en/events/soll-ich-auf-dich-hoeren-oder-nicht-neue-for[…]-zur-kollektiven-entscheidungsfindung-mit-ralf-kurvers/